UPDATE 11:27 5 May 2016: The Environment Agency have now confirmed Oliver Roden will be attending.
---
We have been advised that the reason for the sewage tankers in the village is due to maintenance work being carried out at the Cranleigh sewage treatment plant on the Elmbridge Road.
We have highlighted the area on the image below (courtesy of Google Maps) to show its location behind the allotments.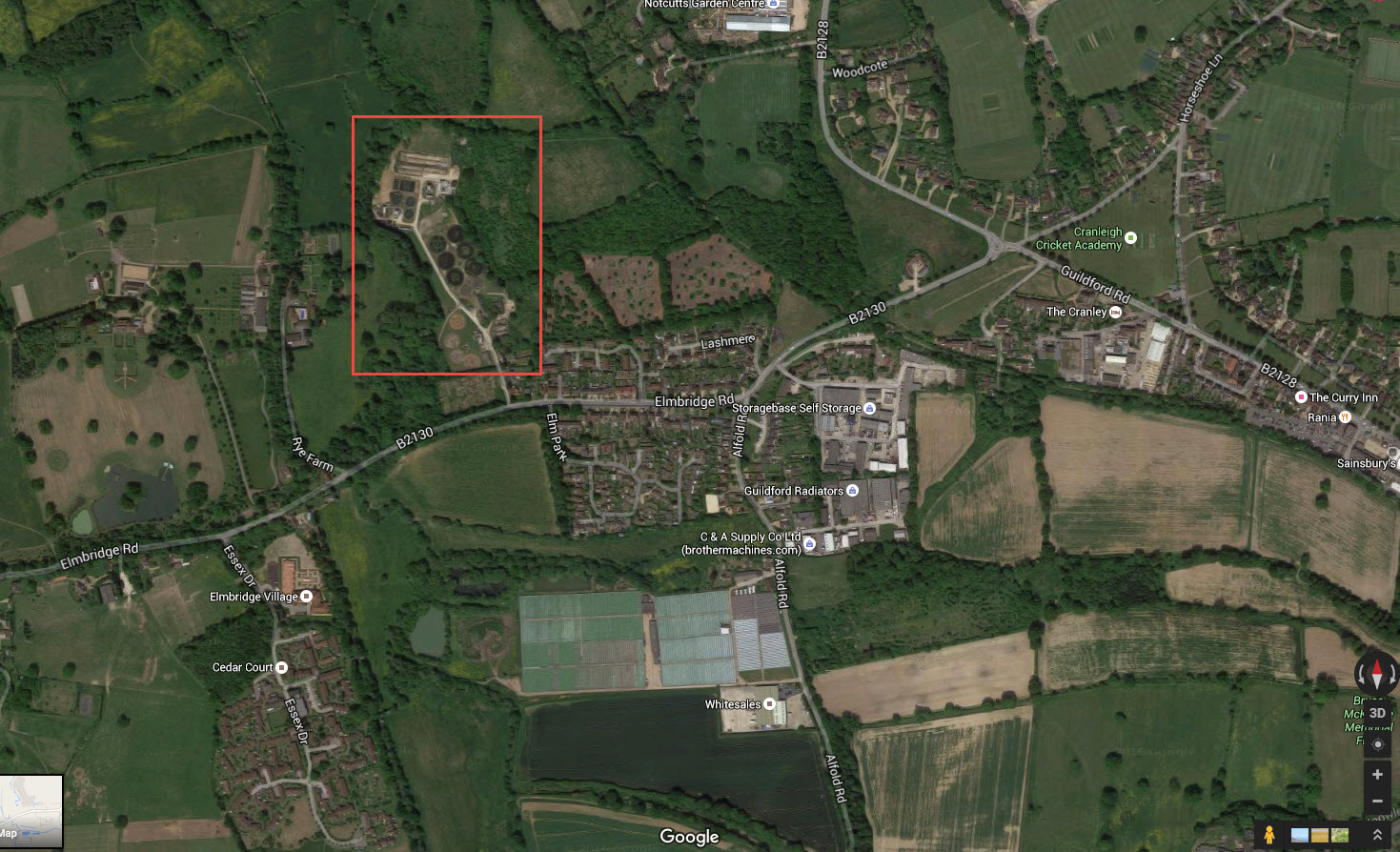 Thames Water report that the tankering (their word!) is enabling work for the planned maintenance happening on site at Cranleigh sewage treatment works. They are currently undertaking a series of improvement works which include cleaning and replacing parts of the filters they use as part of the treatment process and installing 2 additional filters. They expect the tankering to be required for 1 – 2 weeks (it's been a week already).
Seems a lot of pumping out just to carry out routine maintenance work on filters?  We do hope that they are also fixing the collapsed sewer as well.
After much negotiation, we have now at last arranged for a meeting of stakeholders at the Cranleigh Sewage Treatment Works on 11 May at 2pm to discuss the ongoing capacity problem.  The following representatives have confirmed their attendance.  It is a great shame that we have not yet had confirmation from a representative of the Environment Agency who have responsibilities relating to the protection and enhancement of the environment, including watercourses, or a representative of Waverley Borough Council Environmental Health who previously were extremely helpful during the recent sewage spill.
Mark Matthews – Thames Water Planning Manager
Paul Church – Thames Water Technical Manager
Clare Collard – Thames Water Local & Regional Government Liaison Manager
Jim Jones – Surrey Wildlife Trust
Maurice Byham – Waverley Joint Planning Committee Vice Chair
Peter Cleveland – Waverley Planning Officer
Mary Foryszewski – Chair of Cranleigh Parish Council
Brian Freeston – Cranleigh Parish Councillor
Peter Seaton – Cranleigh Neighbourhood Plan
Ken Mitchell – Cranleigh Neighbourhood Plan
Liz Townsend – Chair Cranleigh Civic Society
Adrian Clarke – Vice Chair Cranleigh Civic Society
If you have any questions you would like us to ask Thames Water on your behalf or any of the other attendees, please email them to us at info@cranleighsociety.org or contact us via the website.